One of the most important issues facing the North Carolina Textile Industry, and manufacturing as a whole, is the impact our facilities have on the environment. If you're a North Carolina resident, you know about the problems pollution creates for our river systems. For decades farm and manufacturing runoff has caused major issues with the quality of our drinking water, especially in our coastal communities. The proof is in the high levels of GenX and other harmful chemicals found in the Cape Fear River Basin, where all of our river systems find their way to the ocean. As you can see in the picture below, pollutants can enter our waters in several ways.
STI Fabrics has set the industry standard for sustainable fabrics with our Revolution Brand Performance Fabrics. In 2014 STI Fabrics introduced the industry's first chemical-free, up-cycled, environmentally friendly, stain-resistant performance fabric. This fabric has inspired change in the American textile industry over the last several years, which is shown by other companies following in our footsteps. We'll take a look at some of the reasons STI Fabrics is one of the most sustainable manufacturers in American textiles.
1) We Don't Use Harmful Chemicals
What separates STI from most other fabric manufacturers, is the fact that we do not use any PFC Chemicals in our manufacturing process. PFC chemicals are used by other performance fabric brands to achieve a certain level of cleanability. If water beads on a fabric, it has probably been treated with a PFC. These substances, also known as PFOA, PFAS, and PFOS, bond Carbon with Fluorine. This bond is one of the strongest single bonds in chemistry and that's why they work. The problem is they accumulate in the environment, and growing evidence suggests that they are even more toxic than scientists previously thought. 
2) We Use Up-Cycled Materials
Instead of using these harsh chemicals, we use up-cycled polypropylene, also known as Olefin. Olefin is a byproduct of refining petroleum. For many years, it was discarded or simply burned off. In 1963, the Nobel Prize for Chemistry was won by the scientists who discovered a use for this unique polymer. All Revolution Fabrics are made from 100% pre-consumer petroleum byproducts. According to the Higg Index below, because polypropylene is produced from former waste, it has the smallest carbon footprint of any upholstery fiber.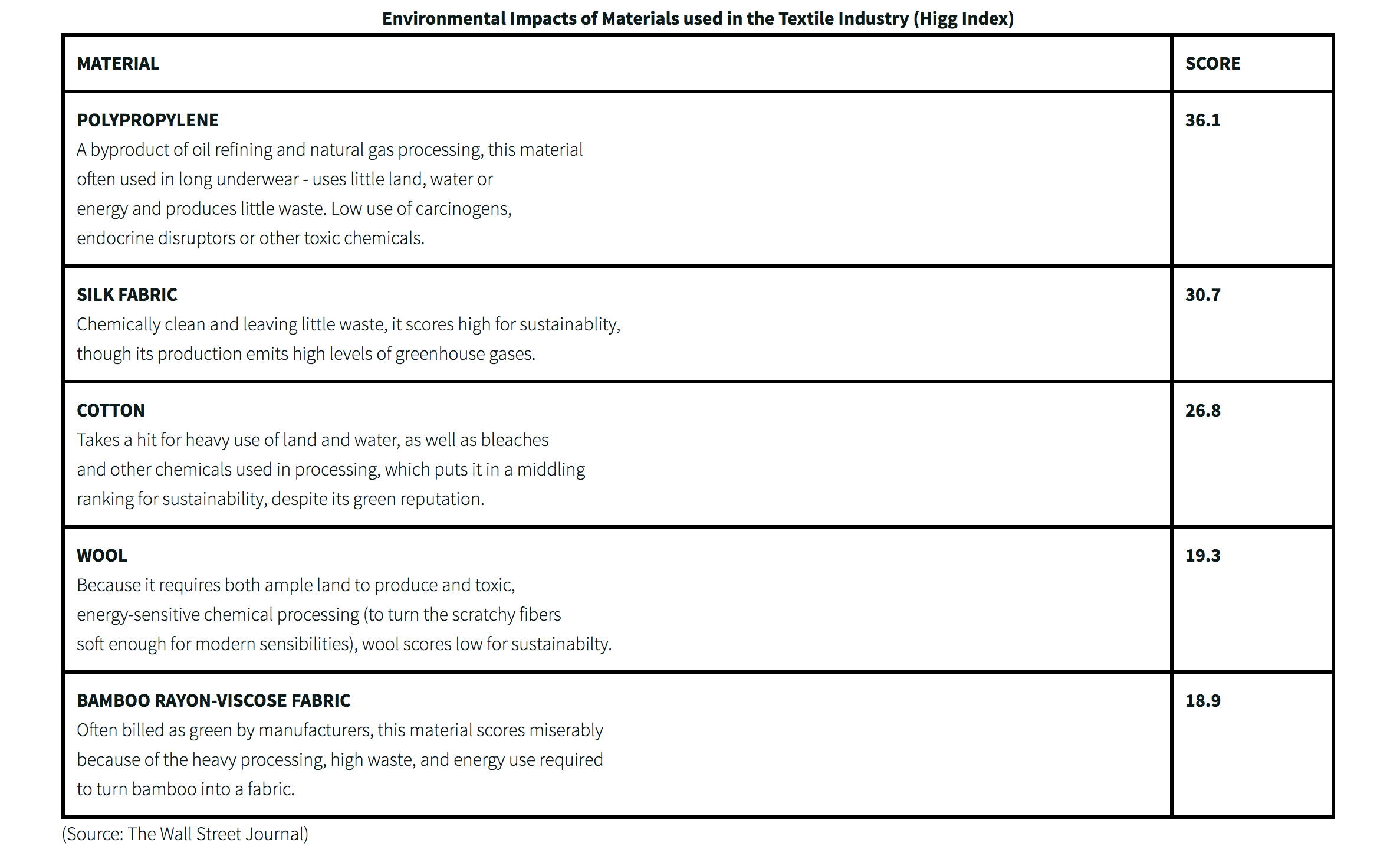 Polypropylene scores the highest on the Higg Index
In fact, polypropylene scores the highest on the Higg Index with a score of 36.1 due to the fact that it uses little land, water, or energy and produces very little waste. For reference, silk comes in second on the index with a score of 30.7. It scores high for sustainability, but silk production emits high levels of greenhouse gasses.
Cotton comes in third with a score of 26.8.  Cotton takes a hit for heavy use of land and water, bleaches, and other chemicals used in processing, which puts it in middling rank despite its green reputation. Wool and Bamboo score even lower due to the fact that they require even more resources and heavier processing due to the scratchy fibers.
You might not necessarily picture a green product when you think of synthetic material. But as demonstrated by the Higg Index, you can see that many fibers billed as green take up loads of environmental resources like land, water, and energy while using harsh chemicals in the processing of those fibers. 
3) We Use Fewer Resources
Historically, the textile industry has used massive amounts of water in the dying process. At STI Fabrics we are committed to using water-free dying techniques. Our dying comes from melting natural pigments into our polypropylene pellets to create the yarn. We then source that yarn within 300 miles of our manufacturing facility. 
Less water use has had a profound impact on the environment. For reference, one kilo of cotton yarn requires an average of 6,000 gallons of water. Keeping that number in mind, the average sofa uses around 15 yards of fabric, and 15 yards of Revolution fabric weighs just over 8 kilos or 18 pounds. Simply put, if you purchase a sofa made with our Revolution fabric, you just saved the environment over 48,000 gallons of water. With Brentwood Textiles, STI, and Revolution Fabrics' continued growth, you can see how this positive environmental impact will continue to grow with us. 
What Next? 
In 2021 California passed legislation to begin banning the use of PFC chemicals in manufacturing processes. With this trend expected to continue, other manufacturers are scrambling to incorporate PFC-free alternatives like polypropylene in their manufacturing processes. STI Fabrics has positioned itself as the leader in creating environmentally friendly, chemical-free performance fabrics. We are also proudly Greenguard Gold Certified and a leading member of the Sustainable Furnishings Council.